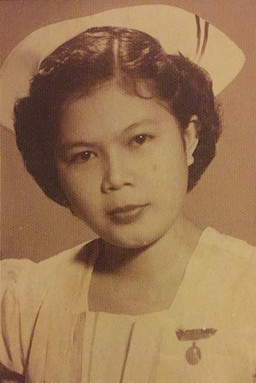 Submit Your Condolence
All condolence submissions are moderated for legitimacy and appropriateness before posting online. Your email address will not be published.
FILIPINAS AZURIN MARTIN
December 28, 2017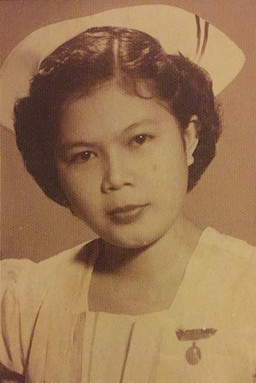 Filipinas (Pinay) was born on December 2nd, 1933 in Santa Cruz, Ilocos Sur, Philippines to Juan and Rosario Azurin.  She passed away peacefully in the night at Sentara Nursing Center – Windermere, Virginia Beach on December 28th, 2017. Filipinas was preceded in death by her father, Juan Azurin, her mother, Rosario Azurin, and her brothers, Arturo Azurin and Juan Azurin, Jr.
She was baptized and confirmed at the Parish of Santa Cruz, Ilocos Sur. Filipinas and her family survived through World War II by escaping to the mountains when their estate was overrun by the Japanese. After the war, Filipinas went on to earn her Bachelor of Science degree in Nursing from Manila Central University in 1956. Upon graduation, she was accepted for a position as a staff nurse at Mercy Hospital in Chicago and came to the United States with a medical contingent on December 30, 1958. She met and married Blas Martin on February 23, 1961. They had three children – William, Lisa and Victor.
Filipinas had many passions: her family of children and grandchildren who she referred to as "her million dollars," music (especially Elvis), casinos and betting with others, the British royal family, the beach, plastic bags and strawberry daiquiris! She cherished family time around the dining table eating crabs, shrimp, spot and any other seafood that was available. Making lumpia (Filipino eggrolls), pancit, sticky rice and the secret "Recipe" were traditions with every gathering. Even to her children's friends, she was known as "Mom" who always kept them well-fed.
She worked at several hospitals, but lastly at Norfolk Community Hospital in Norfolk, Virginia where she was highly esteemed for her skills, dedication and commitment until she retired in 1984.
In June of 2016, Filipinas began hospice care at home for COPD and congestive heart failure. She managed her pain fiercely and fought strongly against multiple ailments till the very end. Being a nurse, she would "help" her care providers all along the way. Filipinas lived each day with fervor and fought her hardest to make it as long as she could, promising to live to be 100-years old.  She smiled and laughed often; she was a jolly soul and would spend time with her family laughing to tears about the silliest things. Victor and Lisa lovingly cared for her 24/7 along with the help of Dr. Patterson of Visiting Physicians and the amazing team at Heartland (Maidya, Callie and Jessica).
Filipinas is survived by her loving sons, William (Cindy) Martin of Victoria, MN, Victor Martin of Virginia Beach, VA and daughter Lisa (Chris) Kreisel of Grandy, NC; her children's father Blas Martin of Virginia Beach, VA; grandchildren Gregory (Sophie) Martin, Blake (Allie) Martin, Matthew Martin, Kaylee Martin and Mitchell Kreisel; step-grandchildren Bob Smith, Jake Smith and Aaron Smith; step-great grandson Shiloh Remington; brothers Wilfredo Azurin, Benito Azurin of the Philippines; and sister Ella Khan of Largo, FL. A memorial service is being planned for later this spring.
Condolences to the family may be expressed vis the online register at www.gallopfuneralservices.com.  Gallop funeral Services, Inc. was entrusted with arrangements.