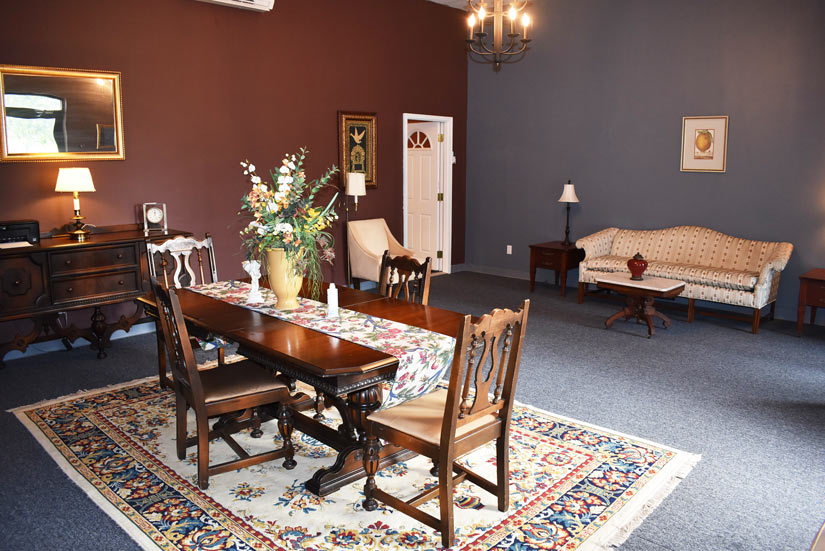 Almost coincidental to its 10 year grand-opening anniversary Nags Head funeral home Gallop Funeral Services, Inc. has announced that the company has opened a second location in Barco, Currituck. Gallop Memorial Chapel - Currituck located at 4055 Caratoke Highway is a modern 3,000 square foot facility that features a full size chapel, a family lounge, and a visitation parlor as well as ample parking and convenient access to the Outer Banks, Elizabeth City and the up-county communities in Currituck County. The building which has been vacant for several years was an adaptive reuse from its previous occupancy as a karate academy.
"The facility is the first funeral service related business ever to locate in Currituck County and is equipped to serve all faiths and families in the county where previously there were no local choices," announced Gallop Funeral Services, Inc. president Courtney N. Gallop. "Needless to say," she continued "something like this is long overdue in a county of this size with a growing aged population."
Combining beachy charm and country elegance, the chapel is designed to host the full gamut of memorial gatherings. Ranging from traditional casket funerals, military services, viewings and visitations, and receptions, to intimate and contemporary memorial services and ceremonies. The chapel layout focuses on versatility according to a company information summary.
Gallop Funeral Services partner and licensed funeral director, J. Ben Andrews added that "funeral service today is extremely individualized and we embrace the choices of all families in the community."

Founded April 1, 2006 in Nags Head, Gallop Funeral Services, Inc. likewise, was the first ever funeral home to locate on the Outer Banks beaches which featured a unique marquis sign that honored families being served. President and licensed funeral director Courtney N. Gallop founded the company which was adapted from the original Green Leaf Art Gallery building. A few years later, in April of 2011 Gallop established Capital Crematory which was the first ever crematory ever located in Dare County. The crematory support Gallop Funeral Services and also provides professional cremation services for other funeral homes in the albemarle area.

"We have stuck faithfully to our founding mission: to offer all families outstanding family care at the most competitive value possible in a spirit of fairness and dignity with a total commitment to quality, " said Gallop. According to Gallop, the new Currituck Chapel will serve the community comprehensively by providing civic groups and local non-profits and charities with gathering and meeting space and donating the expansive parking lot for occasional yard sales, car washes, and other civic projects. "We want to be good neighbors as well as great funeral directors," said Gallop.
Currituck Memorial Chapel Photo Gallery
Currituck Memorial Chapel 360 Virtual Tour